All Cape Security Patrol Service is a vehicle-based roving mobile security service that shuttles between different properties and makes rounds at each individual property. This is repeated however many times the client wishes per day/night/week/month. The roving patrol will assign your property to a local security patrol consisting of other properties in the area. Mobile security patrols offer an effective safety, security and surveillance strategy at substantially less cost than a full time on-site security guard.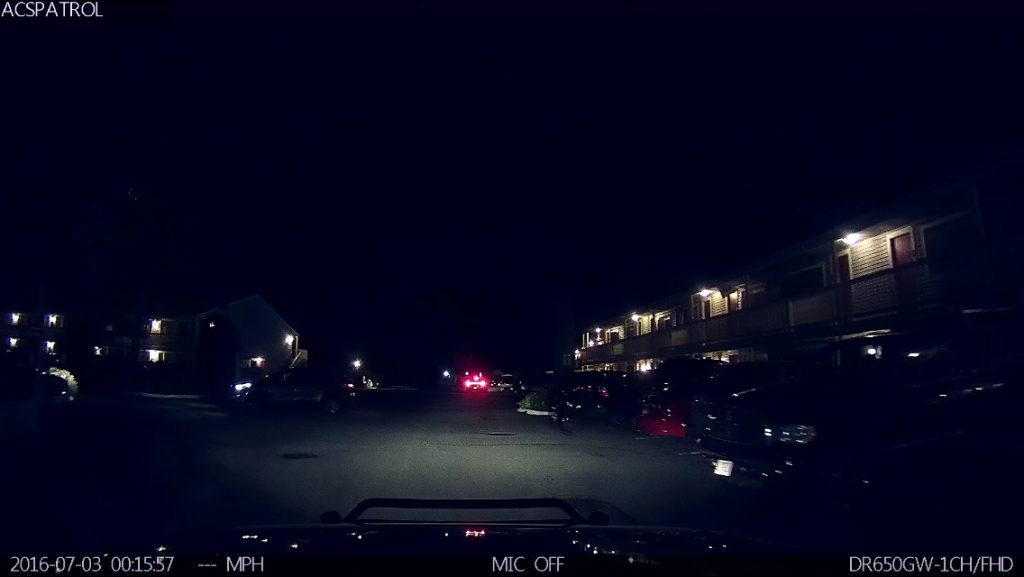 In addition to safety, maintenance and security inspections our mobile patrols can take care of regularly scheduled tasks such as lockups and unlocking of gates, doors and fences, early morning parking lot sweeps and parking violation checks, employee escorts, monitoring of environmental conditions, etc.
Cape Cod Security Patrol
Patrol: to pass along a road, beat, etc., or around or through a specified area in order to maintain order and security.
Mobile security patrol is a private patrol, or security inspection and surveillance service that can randomly monitor your home, business, commercial property, construction site, residence, or neighborhood.
Patrols can be scheduled to be conducted at any frequency and for any time period you need. This can be once or twice a week, every other day, every day, every night, on the weekends, only for week or two, even on demand whenever you need them.
Mobile security patrol services are more affordable than you might think. Patrol services start at under $20.
Private Security Patrol Services
All Cape Security Patrol's private Cape Cod security patrol service offers the following:
High-profile marked or low-profile unmarked vehicle patrols
Security Patrols of Properties – (Residential Homes, Estates, Commercial Properties, Vacant Real Estate, Construction Sites, Industrial Parks, Churches, Houses of Worship, Private Beaches, Marinas, Private Docks, Moorings, Waterfront Properties, Boats, RVs, Solar Farms & Renewable Energy Sites)
Private Residential Community Patrols – (Neighborhoods, Homeowner Associations, Apartment and Condominium Complexes, Hotels, Motels & Resorts, Time Share Complexes, Sub-Divisions, Individual Homes)
Business Patrols – (Individual Businesses, Business Parks, Business Associations & Groups, Shopping Centers, Business Condos, Employee Escorts, Bank Deposit Drops, Parking Lot Patrols, Openings and Closings, etc…)
Vacation Rental Property Services (Property Activity & Over Crowding Surveillance Patrols, Turnover Day Key Swaps, Lock Out Let Ins)
Verified Alarm Response (Key-Holder Services for Burglar and Environmental Alarm Activations)
Wellness Checks and Employee Escorts
Foot Patrols of Private Areas
Area Checks and Spot Checks
All of our mobile patrol vehicles are equipped with dashboard cameras

Dedicated vehicle based security patrol units are also available for properties and circumstances that require a full time vehicle based security patrol presence and surveillance requirements.
Security Patrol Overview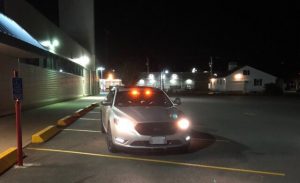 All Cape Security Patrol's private patrol agents will monitor the exterior of your property and any goods, equipment, vehicles, etc… located on the property for parking violations, safety, security, maintenance and animal/storm damage issues.
Our patrol agents will observe and report on any suspicious persons, vehicles, activity or incidents in the area and conduct traditional crime prevention techniques in accordance with state and local laws. In the case of an incident, the agent will notify the necessary local emergency services and the business owner/resident.
Professional Tracking & Reporting
Our detailed real time reporting and records keeping is unmatched. Our mobile patrol services are all tracked and reported through our cutting edge security patrol software.
Patrol tour checkpoints can be setup in critical areas to reduce liability for the property and create verifiable records of conditions at the property.
For example, if a mechanical systems room needs to be monitored, or a pool gate or common area needs to be locked at a certain time and checked at regular intervals, each checkpoint on a patrol tour logs and maps each area patrol with GPS mapping time stamps. Patrol tours can also be setup to require the patrol officer to include pictures documenting current conditions, or answer specific set of questions with each checkpoint on the tour.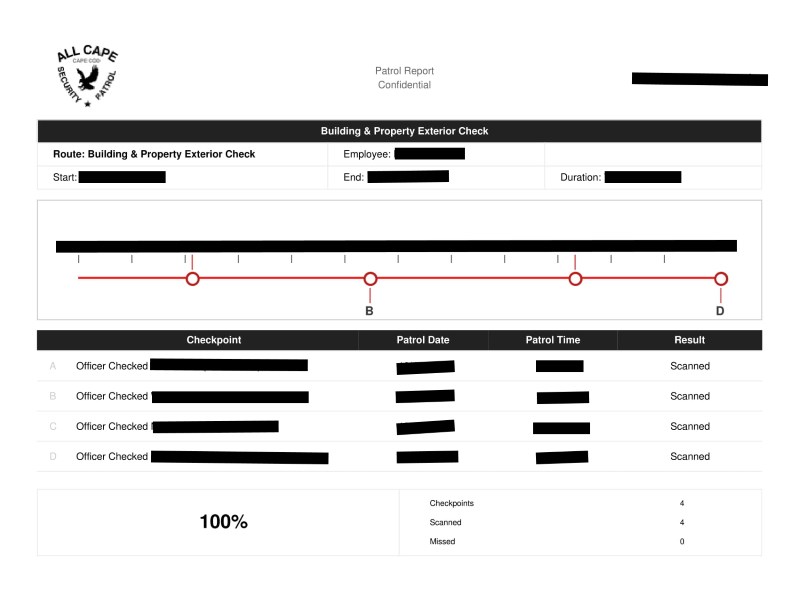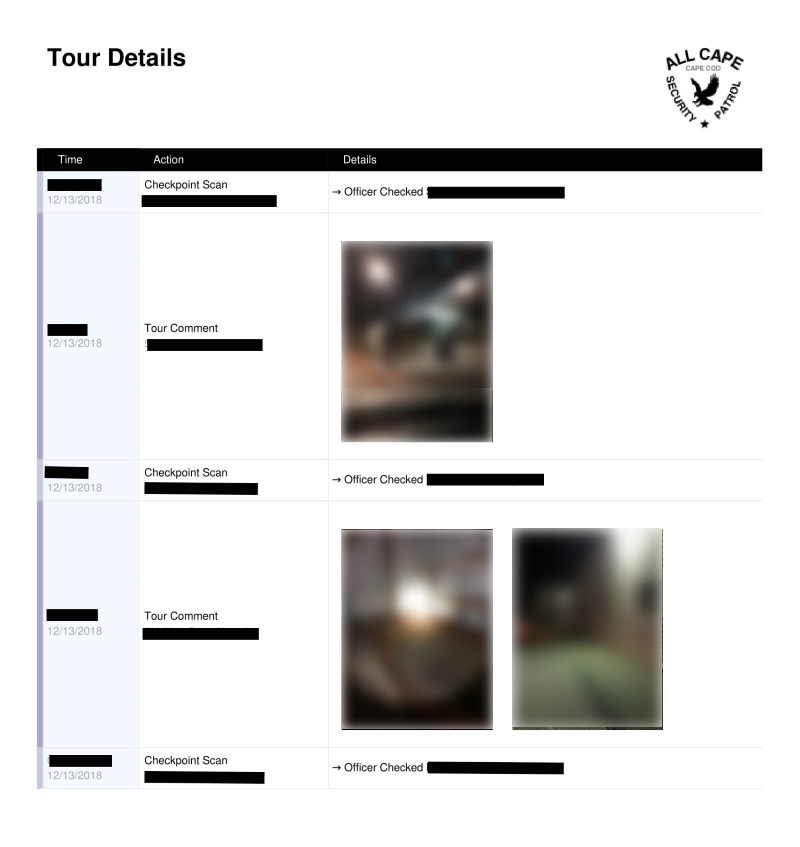 Reporting Dashboard
Real-Time Incident & Issue Reports with detailed photos and GPS Tracking
Detailed reports are sent in real time via email directly from the property
Optional text message notifications that indicate we were on the property and a report was submitted to your email.
Professional security industry reporting and records keeping creates a verifiable history of property conditions
In addition to checking for and reporting on safety and security issues, our patrol units will also look out for and report on any maintenance issues that are discovered during patrols on the property. This makes our security patrol services an important part of your property management strategy.
Our real time reporting software can be setup to notify your designated maintenance team directly when any maintenance issues are discovered. Instant and direct reporting of maintenance issues streamlines the response to these issues and will reduce some of your property management team's workload.
Our security patrols will work closely with local law enforcement agencies to better serve the community needs and to help prevent crimes from occurring in the first place.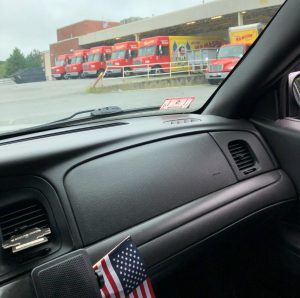 With the budget reductions in many local police departments, and the need for increased security, many business organizations and neighborhood watches are hiring private security patrols. Because of these budget cuts, some local police departments are operating with limited resources and personnel which places them in more of a reactionary role (responding to calls) rather than a proactive role (patrolling the streets).
Homeowners and business owners are discovering that security patrols are necessary to protect their properties and by combining forces with their neighbors, security patrols become a very affordable security option.
Who can benefit from hiring All Cape Security Patrol's Private Security Patrol service?
Businesses or commercial properties with goods, equipment and vehicles that are prone to theft or vandalism
Absentee or large portfolio property and land owners that want their properties checked periodically for unauthorized activity such as graffiti, drug paraphernalia, garbage dumping, trespassing and homeless encampments
Lodging property owners who want to ensure that the safety and security of their guests is a top priority
Business associations that are concerned with after hours activity in their area
Residences and neighborhoods that wish to have a highly visible or undercover security presence to deter criminal activities in their area
Commercial properties and Homeowners Associations that require regularly scheduled tasks to be completed at specific times (building, common area, pool, or gate lockups, employee escorts, etc.)
Unoccupied properties and vacation homes that are vacant during the off season and require require regular interior/exterior inspections. see Home Watch & Property Check Patrol Services
Owners of other expensive private property such as boats, RVs, heavy equipment, solar arrays, etc.
Construction sites where building materials, equipment, tools and property are susceptible to theft or vandalism
Anyone that is concerned with recent criminal activity in their area, like arson, break-ins, thefts from vehicles, vandalism, property crimes, etc…
Security Patrol Services
Private Mobile Security Patrols
For business, commercial or residential properties that require multiple patrols per day/night, foot patrols of private areas, or dedicated mobile patrols for the short or long term, please call (774) 383-2030 or email us.
Scheduled Security Patrol & Property Check Services
Set up regularly scheduled security patrols and property checks for any period of time and patrol frequency. Please call (774) 383-2030 or contact us for rates.
Residential Home Watch & Property Check Patrol Services
Need more information on our Security Patrol services? See our Security Patrol Services FAQ
Private Security Patrol services Cape Cod, MA
Patrol Related Articles