Commercial Building Checks & Property Patrol Tours
Learn how our mobile patrol services and security patrol software can limit your commercial property liability, make your property safer, more secure and ease the burden of property management. Regularly scheduled patrol tours and building checks can be performed at any frequency for any period of time. This could be once or twice a night, several times a day/night, after business hours, a few times a week, only on the weekends, any time.
All of our regularly scheduled exterior patrols are setup with GPS checkpoints that log the date and time of checkpoint scans and can require that the officer include images, answer questions, or fill out property specific reports depending on the requirements of the property. For example, patrol tours that include a lockup, or monitoring of equipment or environmental conditions can have specific reporting requirements. Patrol tours and reporting can be customized based on the requirements of the property to accurately document any necessary conditions.
We also provide alarm response & emergency call out services for both residential and commercial clients across Cape Cod.
Reporting & Accountability
Our reporting and records keeping is unmatched. There will never be any question of whether our patrol services were performed. You will receive real-time text notifications and alerts along with emailed reports of all activity on your property.
All our patrol tours and building check reports include GPS verifiable records of current conditions at the property during each patrol or tour performed. Our reporting and documentation creates a verifiable history of conditions at the property should these ever be needed for any reason. All operation reports and patrol tour records are archived and stored securely online.
Building & Property Check Tour Report with GPS Checkpoints and Images
This is an example of a basic building and property check tour that requires the officer to include images at each checkpoint on the tour of the property. (Sensitive info redacted for privacy)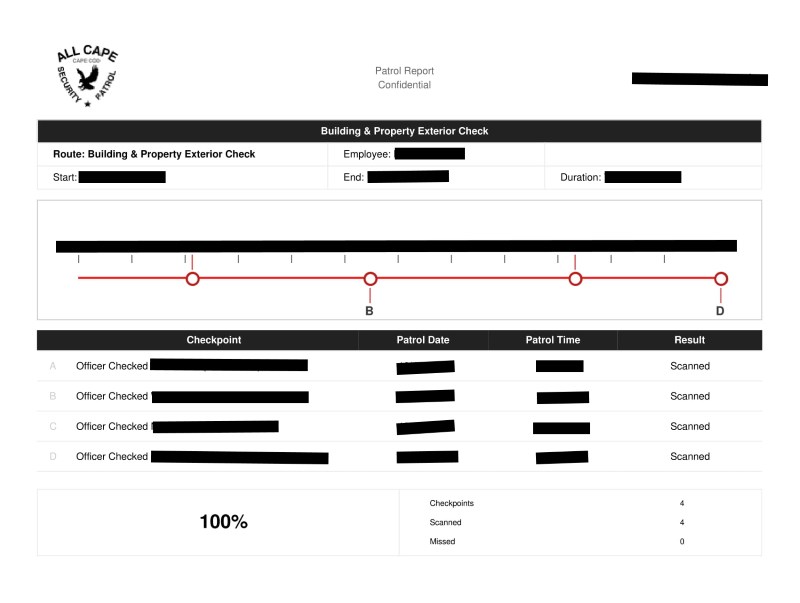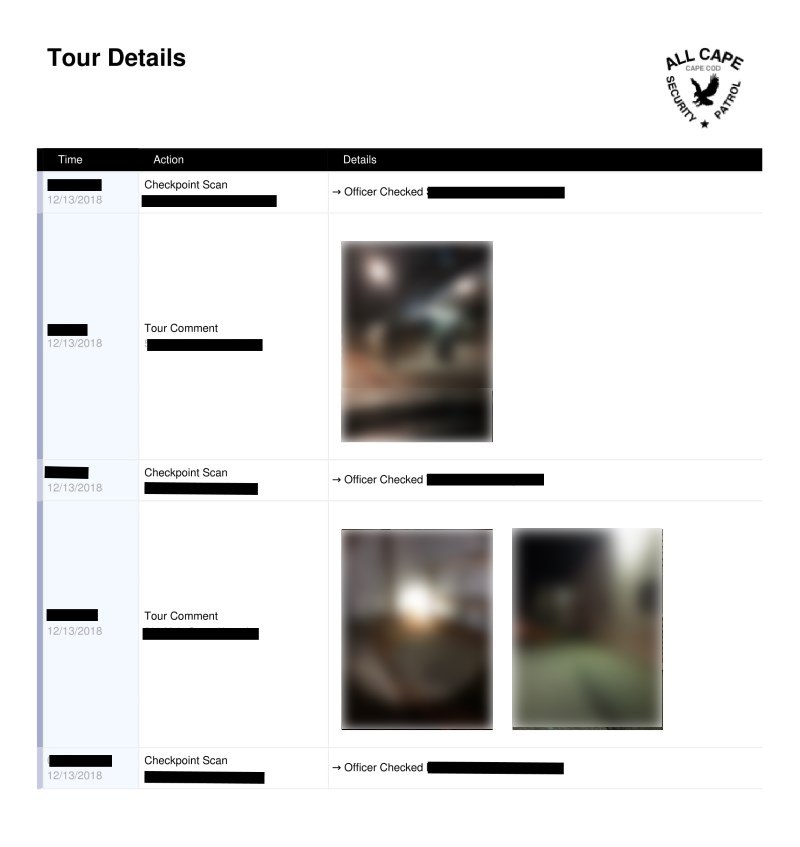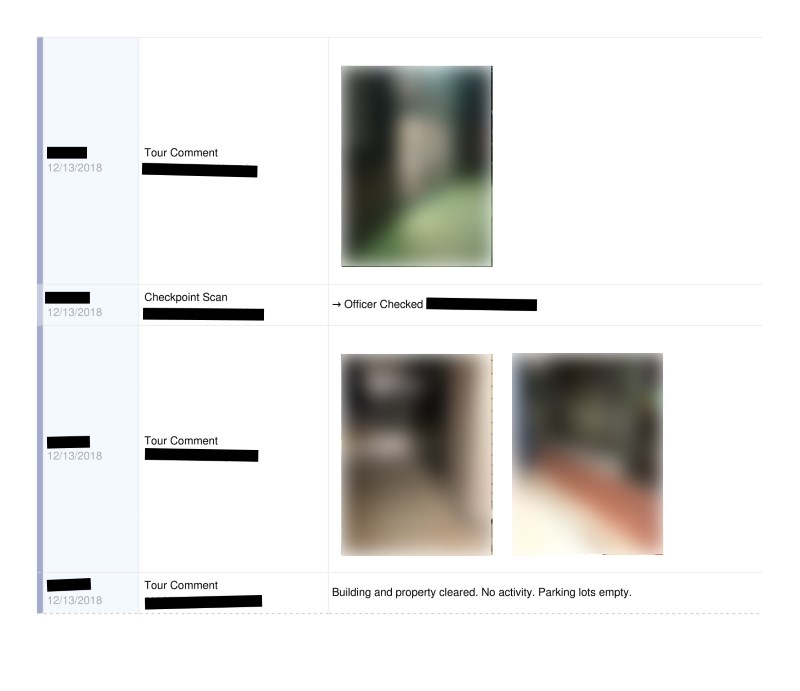 Additional Incident & Issue Reporting
Any incidents or issues found during the patrol tour are documented in additional separate reports. These might include suspicious vehicle or person reports, trespassing, parking issues, safety issues like slip trip and fall hazards, or routine maintenance issues like burnt out lights. These reports can also be configured to be sent via email to different persons based on the nature of the report. Maintenance issues can be sent directly to the maintenance team, etc. Reports can also trigger SMS text alerts to notify certain personnel that an incident or issue report was filed and sent via email.
Mobile security patrol services are more affordable than you think.
We may offer discounts for higher frequency patrol checks, drive-through patrols and patrols of of multiple properties in the same immediate area.
Call us anytime 24/7 at (774) 383-2030 or email us right now to find out more about patrol tours and building checks for your property.