Simple Home Security Camera for Less Than $50
Here's a simple tool we use at some of our home watch clients' properties. Like the freeze alarms we install for some of our regular home watch clients, these simple pan/tilt webcams offer a simple and effective network surveillance camera system for under $50. (Requires active WiFi or Ethernet connection)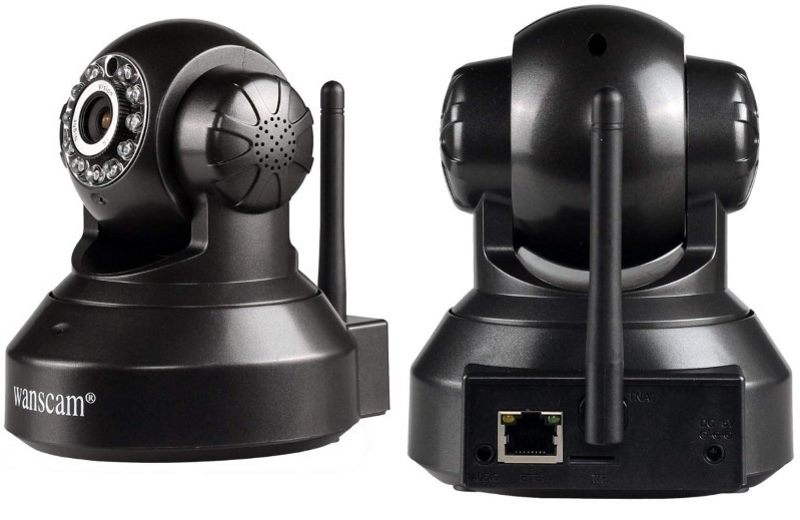 Features & details
1. H.264, CMOS 1 MegaPixel,DC 5V2A. 2. 10 LED, IR distance 10M. Lens 3.6 mm

3.Two-way audio, Remote Pan/Tilt rotate, Indoor 4. Wi-Fi/802.11/b/g/n , PC CMS to control multi-cameras.

5. Motion detection, email alert, FTP upload 6. Iphone, 3G phone, Smartphone supported

7. 15 languages APP & WEB UI, Firefox, Safari, Google browser 8. Pan:355°, Tilt: 90°, Speed:15-70°/S

9. P2P, PNP: Plug&play, Support QR code scanning to view on Iphone and android Mobile 10. Support TF Card.
Real Time Motion Detection Alerts
These simple cameras will send motion detection alerts in real time via email. The alerts can be configured to send an email when there is a motion detection by the camera. The email contains 6 still images taken immediately upon motion detection.
Live Viewing
You can login from any device and move the camera 350 degrees and turn the infrared night vision lights on and off depending on lighting conditions. When you receive the motion alert email, you can login and view live video to see what is happening in real time and even take screen shots of live video on your phone for example.
Even when shot through a window, the resolution in the images is pretty good for a cheap ip camera.
Window Mounting
When mounted in a window, they can be used to cover either the outside or inside of the home and issue motion detection alerts. Depending on your property setup, you may be able to position one of these pan/tilt ip cameras in a strategic window location so you can detect and capture activity either in or outside.
The Best Single Camera Setup
A window where the camera can be setup to detect motion as people approach the property, (like the driveway) and you can also see a good portion of the inside of the house as you turn the camera around.
While you can only cover one camera view with motion detection alerts, if you mount your camera in the right spot, you may be able to switch your motion detection based on whether you are away from your home or not.
For example, if you are at the house, you could set it to cover the driveway. If you go away, you can set it to cover the inside of the house by simply turning the camera and covering the entrance door, or a hallway. Whatever you can see as you turn the camera 350 degrees can be covered with motion alerts and email alerts.
We have used these cameras in our clients' vacant properties for years and they are very reliable in our experience. The only issue is when there is a power outage the camera re-centers itself, so you need to move the camera back to the desired motion detection position. Simple.
Technical Know How is Required

To setup the camera properly, there is some technical know-how required. Depending the camera and your WiFi network setup, you may need to open a port on your WiFi router. Also, for email alerts, you'll need to know some technical info about your email provider, like SMTP port numbers and other stuff.

While single indoor pan/tilt cameras can be a cheap, effective and simple option, you can setup multiples, or for a few more bucks you can get outdoor cameras with a DVR recorder. There are literally hundreds of more sophisticated surveillance camera setups available, but this is a simple, quick and easy setup for less than $50.

At the time of this writing, these types of cameras are going for under $50 on Amazon.
We have been keeping an eye on vacant properties and helping clients setup surveillance equipment and camera trap systems for years on Cape Cod, so if you need help on deciding what type of system to buy and optimum camera placement, or have technical setup issues and you are in the Cape Cod area, you can call us at (774) 383-2030 or send us an email and we'll see what we can do.