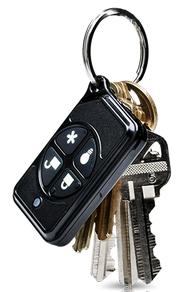 The keychain remote (also known as a "key fob") is similar to your car remote. Now you can have one for your home security system.
This ultra-portable device allows you to control your home security system. You can arm or disarm your home security system easily with the touch of a button.
Stepping out for a while, you can arm your system to away mode, by clicking the lock button twice.
When you get back, simply press the unlock button and you won't have to worry about rushing to disarm your system at the control panel by punching in a code.
The keychain remote is very handy when you have your hands full or when carrying a child.
Arm and disarm your security system with ease and convenience.
No share or id values provided for youtube shortcode.
This is a very simple device. Its ease of operation makes it perfect for children, the elderly or the otherwise technically challenged.
Cellular Wireless Home Security Systems

Frontpoint® Home Security System Equipment
Get a FREE home security system quote today! Click Here
Monitoring services provided by FrontPoint Security Solutions, LLC. License number: AZ (ROC 237700), AR (E 2007 0059), CA (6539), DE (Burglar 07‐152, Fire FAL‐276), FL (EF 20000693), IL (124.001665), MD (107‐1417), MA (1185 C), MI (3601205495), NV (0069919), NJ (34BX00006100), OK (1564), RI (3307), SC (13375), TN (00001339), UT (6719133‐6501), VA (11‐5305). FrontPoint is fully licensed in all jurisdictions where required to be licensed.