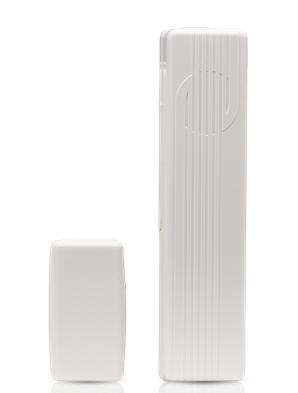 For basements, crawl spaces, lower levels of the home where the water heater and plumbing is present or where water will collect from a plumbing failure, a leaking roof or a serious weather event.
Monitor lower level areas where a water leak or flooding could cause extensive damage, like in a finished basement for example.
The metal conductors on the sensor will send an alert to the control panel and the monitoring center when they come in contact with water. You can also get immediate notifications via phone, text or email.
No share or id values provided for youtube shortcode.
The flood alarm offers great protection from plumbing failures and water damage events. The perfect solution for second homes that are vacant in the off season and are susceptible to flooding events while unoccupied.
Use the flood and water sensor with the low temperature freeze alarm, to keep your home safe from catastrophic damage from frozen pipes and the flooding that follows when the lines thaw.
Cellular Wireless Home Security Systems

Frontpoint® Home Security System Equipment
Get a FREE home security system quote today! Click Here
Monitoring services provided by FrontPoint Security Solutions, LLC. License number: AZ (ROC 237700), AR (E 2007 0059), CA (6539), DE (Burglar 07‐152, Fire FAL‐276), FL (EF 20000693), IL (124.001665), MD (107‐1417), MA (1185 C), MI (3601205495), NV (0069919), NJ (34BX00006100), OK (1564), RI (3307), SC (13375), TN (00001339), UT (6719133‐6501), VA (11‐5305). FrontPoint is fully licensed in all jurisdictions where required to be licensed.