Winter Watch Services for Vacant Homes & Cottages on Cape Cod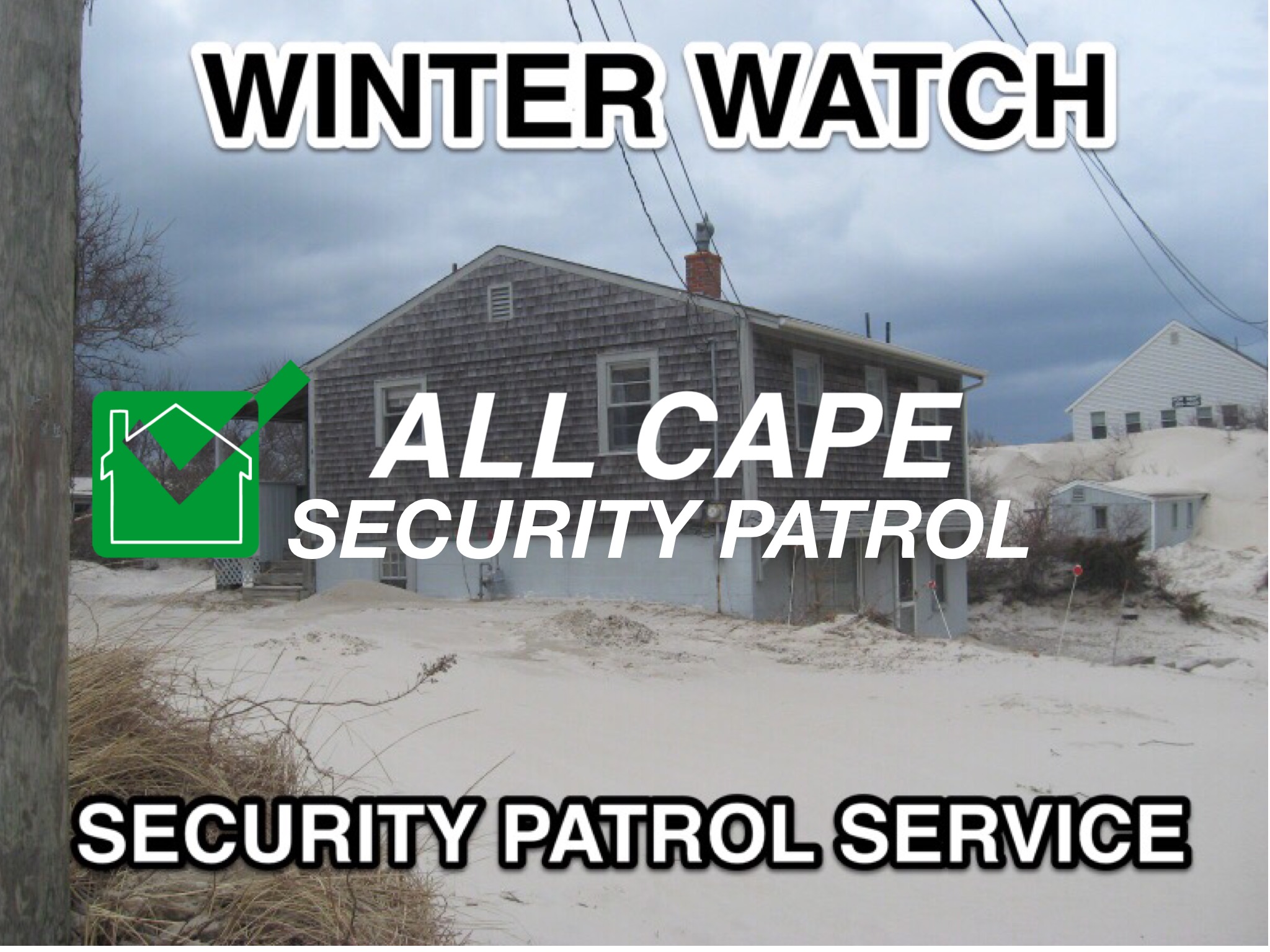 It is no secret that unoccupied second, or seasonal homes on Cape Cod are targets for property crimes, thefts and vandalism over the winter season.
Since these vacation homes are vacant during the off season, they make easy targets for criminals looking to steal from and vandalize private property.
In many areas of the Cape, there are entire neighborhoods full of houses that are unoccupied over the winter season.
All of these vacant homes can be classified as either winterized (shut down) or non-winterized seasonal homes.
Winterized
Many of these unoccupied properties are summer cottages that are "shut down" for the winter, meaning that all the appliances and plumbing is drained and other utilities such as electric power may be shut off as well.
Since these properties are shut down, which limits the risk for catastrophic damage from frozen pipes for example, they may not require regular interior inspections once or twice a week. For owners of winterized properties, the main concerns are break-ins, vandalism, animal and storm damage.
Every year on Cape Cod, there are a rash of break-ins discovered in the spring, when after these properties are not monitored for several months, the property owners come down, or the plumber is there to turn on the water, or the landscaper is doing a cleanup and discovers that the house or cottage was broken into at some point over the winter. There have been cases where they find that every seasonal home on an entire street, or a whole seasonal neighborhood was broken into.
Periodic exterior security and damage inspections, or property checks can be performed by private security patrol units. Having the exterior of your winterized seasonal home, or cottage periodically checked by a security patrol unit for security and storm damage issues is an affordable safety and security option for your seasonal Cape Cod property.
Get the piece of mind in knowing that your property is being routinely watched and that any potential problems will be discovered before they become catastrophes. These property checks can be scheduled to be done at regular intervals by adding the property to a regular security patrol route, or can be ordered on demand only when you need them.
Not Winterized
Houses that are not "shut down" require regularly scheduled interior inspections at certain intervals to meet seasonal, or "vacant home" homeowner insurance requirements. These interior inspections are done to monitor the interior temperature for example when the plumbing is not drained for the winter season and the heat needs to keep the pipes from freezing and bursting.
This type of service is commonly known as a caretaker, home watch, or property management service. Most home watch services are contracted to have interior inspections done once or twice a week. For the remainder of the time, the these properties sit empty and unchecked. Since these services perform interior inspections and are responsible for keeping the house from freezing, home watch and property management contracts are expensive, often hundreds of dollars a month.
While once or twice a week may satisfy the needs of your insurance policy while your home is unoccupied, any security issues or damage to the home can potentially go unnoticed for days until the next scheduled home watch inspection.
Winter Watch Seasonal Property Security
If your seasonal home is winterized, adding your property to a private security patrol route for regular exterior security and damage checks will keep a watchful eye on your property over the long winter season.
For un-winterized homes security patrol checks are an affordable security option that can fill in the gaps in between your existing caretaker inspections, ensuring that your property is secure over the winter season.
The presence of security patrol units on the property and in the area, also acts as a strong deterrent to potential criminals looking for seasonal homes to break in to or vandalize.
Exterior property checks on security patrol routes include a full exterior security and damage check of the property including the grounds and any outbuildings on the property. The security patrol unit will also make an effort to view the interior of any buildings on the property, if it is possible from outside.
If the security patrol unit finds an issue at the property, the security agent will contact you, or your caretaker as well the proper authorities and and notify you/them of the issue.
Security patrol units can access your property at any time, in any weather conditions. During last year's winter blizzards and storms, snowshoes had to be used to access some remote houses where access roads and driveways were so buried in snow they could not be plowed out for months.
Get your seasonal neighbors involved and save on security patrol services. The more houses a patrol unit can check in one area, the more affordable the rates. Ask about discount rates for multiple properties in close proximity.
Find out more about caretaker home watch and security patrol services for your Cape Cod property.