Do Home Watch Companies Need to Be Licensed in MA?
There are many local Cape Cod companies that offer "home watch" and security related services. These businesses range from key holding caretakers and home watch services to builders and landscapers. According to the laws of the State of Massachusetts anyone that offers key-holder or interior related inspection or security services must be licensed (and bonded) to do so. Many of the businesses that offer house watch services on Cape Cod are not licensed properly to offer these services.
According to MA General Law
Watch Guard Patrol Agency
Chapter 147: Section 23. Necessity of license; exceptions
In the first paragraph of the law we see that unless you are properly licensed, you are not even supposed to use the word "Watch" in your business name or offer services containing the word.
No person shall engage in, advertise or hold himself out as being engaged in, nor solicit private detective business or the business of watch, guard or patrol agency, notwithstanding the name or title used in describing such business, unless licensed for such purpose as provided in section twenty-five.
The only notable exception to this licensing requirement is for inspecting the exterior of a building only as seen in the following passage:
11. A person hired by the owner of a residential dwelling for the limited purpose of inspecting the exterior of an unoccupied residential dwelling for storm damage.
This means any caretaker that has a key to your second home and inspects your home's interior while you are away for a fee, needs to be bonded and licensed.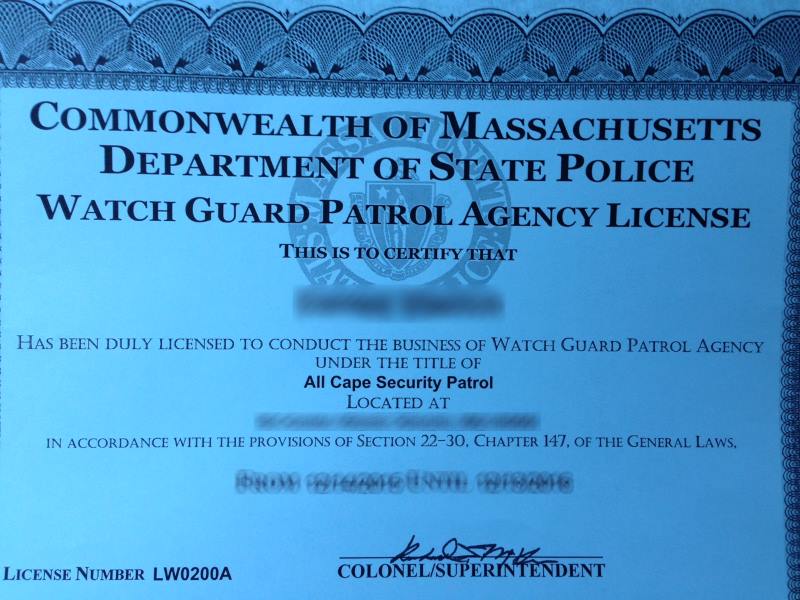 Licensing is done by the MA State Police Certification Unit. A very thorough background check is done and all licensees are required to be bonded before a license is issued.
You will see companies like handymen and builders offering home watch and security services. These companies often say that they are licensed, or you may see a license number on their website, but usually this is a home improvement or builder's license, not a Watch Guard Patrol Agency license which is required by law to offer home watch and security related services in the State of Massachusetts.
Your home watch provider should also be insured to offer these types of services. The proper insurance is not cheap and most of these so called home watch companies are not properly insured, which leaves you with little recourse should there be a problem with your provider. It may also leave your homeowner's insurance company with a possible loophole when it comes to paying on a claim.
Be safe and smart, hire a licensed, bonded and insured home watch company.
Hire a MA State Police licensed, bonded and insured Watch Guard Patrol Agency like All Cape Security Patrol. There are many companies that offer home watch and private security patrol services to residential and commercial clients on Cape Cod, but not all of them are properly licensed.
Call (774) 383-2030 or email us today to discuss your Cape Cod home watch needs.