Tactical & Practical Advice to Gain an Advantage in the Dark
Here are a few essential tips to help you see better in low light situations
Before you leave a well lit area for a dark one, close your eyes for a few seconds. This will give you a big advantage. When your eyes are adjusting to darkness, you are vulnerable due to temporary blindness. Not just vulnerable to an attack (if you are in a potentially dangerous situation), but also to an accident like falling down stairs, walking into or tripping over something in the dark.
The best example of the effects of this is when you turn off a light in an otherwise dark room. Here's how to do it the right way: Grab the light switch, close your eyes, count to four, flip off the switch, then open your eyes. You will be able to see way better.
Now go back into that same room turn the light back on and look right at the light when you turn it off. See what I mean? You are blinded for a few seconds. Try it.
Another practical time where this strategy will be helpful is when walking to or from your car at night. When parking your car in a dark area, close your eyes for a few seconds before you open your car door and do not look at the interior light that comes on when you open the car door. This will give your night vision a kick start before you venture out into that dark parking lot.
Do the same thing when you head back out to your car from a lit building. Take a moment to close your eyes and give your night eyes a jump start before you head into the darkness.
If someone is lurking around in the dark waiting to prey on you, their eyes will already be adapted to the dark, yours will not.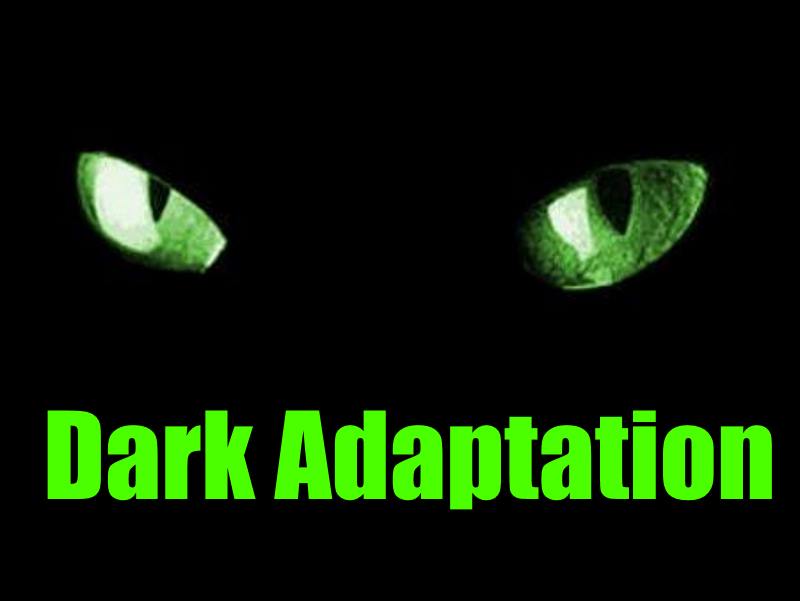 Dark Adaptation
The process by which the eyes increase their sensitivity to low levels of light is known as dark adaptation. Individuals adapt to darkness at varying degrees and rates.
During the first 30 minutes in a dark environment, the eye sensitivity increases roughly 10,000 times. It takes the average person's eyes nearly 45 minutes to fully adapt to darkness.
10,000 times in 30 minutes? That means your eye's sensitivity to darkness increases 333.33 times per minute. So for example, closing your eyes for 10 seconds before heading into the darkness will enable you to see 55.55 times better than if you didn't close them.
Once your eyes have adapted to the darkness, subsequent exposure to bright light from matches, flashlights and vehicle headlights will mean it can take another 30 to 45 minutes for your eyes to re-adapt.
Kind of obvious to avoid looking at bright lights once your eyes have adapted to dark conditions, but interesting that it can set your night vision back all the way. Just like starting over again.
In addition to being vulnerable while your eyes adjust to low light conditions, the inability to see well in darkness leads to doubt and increases apprehension. Darkness always brings out an individual's weakness, especially in lethal situations.
On the flip side, this is the reason why you should carry a bright LED flashlight for self defense at night. The eyes of anyone hanging out in the dark waiting to do you harm will be dark adapted and shining them in the eyes will blind them temporarily, giving you a huge advantage and a few seconds to make your next move.
Keep in mind that using your flashlight to navigate while you are operating in the dark gives up your position, keeps your eyes from fully adapting and causes focal vision which restricts your visual sensitivity to movement.
Units that can operate effectively during hours of darkness or periods of reduced visibility often gain significant advantage over their opponent. Learning how to use splatter vision in low light situations will also increase your night vision and visual awareness.
Don't be afraid of the dark. Adapt to it.